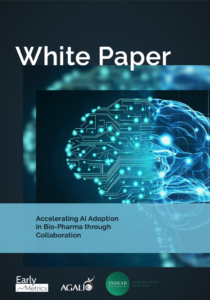 June 2020 – Major bio-pharma directors say adoption of AI in their industry is still too slow.
New research highlights the key blockers and attitudes towards AI adoption by large European bio-pharmaceutical groups and technology startups.
While artificial intelligence (AI) was already a hot topic before, the COVID-19 pandemic has certainly intensified the discussions and developments of this technology in the health space. Yet, real implementations of AI solutions in this sector remain relatively sparse.
The recently published white paper "Accelerating AI Adoption in Bio-Pharma through Collaboration" co-authored by experts at INSEAD, Agalio and Early Metrics, investigates the reasons behind this. 
http://wrjuepp.cluster028.hosting.ovh.net/wp-content/uploads/2021/03/White-Paper-AI-Adoption-in-Bio-Pharma-Vdef-light.pdfNovartis, AstraZeneca, Janssen (Johnson & Johnson), Amgen, Sanofi – these are a few of the pharmaceutical companies from which the directors interviewed for this study hail from. Besides the ten corporates involved, the study also gathered the views of some of the leading AI startup founders in the healthcare space, including Owkin and Quantmetry.
According to the study, the main blockers to the adoption of AI in bio-pharma are as follows:
Lack of data in high quantity and quality that pharma companies can make accessible to startups, reducing the efficiency of their AI solutions
Strict data protection and privacy regulations, leading to long processes to make technology compliant and creating barriers for innovative newcomers
Lack of disruptive business models being created in the bio-pharmaceutical industry
Risk averse approaches to innovation within big pharma and the public sector denoting a need for a shift in mindset towards openness to collaboration and disruption
While startups are recognised as a valuable source of innovation, corporates remain cautious in engaging with them. Bertille LeBihan, VC Manager and Healthtech Lead at Early Metrics comments: "We have seen that 1 in 3 AI startups targets health alongside multiple industries so these might not fully grasp the regulatory and technical specificities of the medical sector. On the flip side, AI founders that focus their activity on healthcare, about 12%, are often academics or doctors who lack the sales and business administration experience to build viable business models."
The study also shows lack of funding provided to AI startups in the healthcare sector is pushing some to pivot towards finance and other sectors with better access to funding. The data shows healthtech companies on average raise 12% less than their targeted sum.
Jean-Michel Moslonka, CEO at Agalio and co-author of this paper, has seen an acceleration first-hand through the Datacovid project: "The severity of the COVID-19 crisis forces the pharmaceutical industry to move faster. In fact, it is catalysing automation in the clinical, medical, marketing and sales planning processes, down to drug volume demand forecasting and KPI monitoring. On top of this, it has created much more appetite for collaboration, including cross-competition partnerships. Examples of this new trend towards "pharma co-opetition" include competitors developing a COVID-19 vaccine together."
As Patrick Errard, Innovation Commission President at MEDEF and General Manager at Astellas France, says in the study: "A digital revolution does not happen thanks to one technology's brilliance. It has to happen because the ecosystem is under such pressure that it has no other way out." The sanitary crisis might have just provided that needed nudge.
Moving forwards, pooling resources and data between ecosystem players and combining technologies such as blockchain with AI, are emerging as solutions to tackle key challenges in the adoption of AI.
Chengyi Lin, Affiliate Professor of Strategy at INSEAD and co-author, comments: "During COVID-19, the healthcare sector demonstrated great strength and solidarity. The crisis also challenged the traditional way of practicing medicine and accelerated digital transformation (via telemedicine, for instance). Post-COVID, this acceleration will call for more meaningful collaborations among all players, especially between private and public sector, between pharma incumbents and startups, to create new ecosystem values. Moreover, partnerships with players from other industries such as tech, finance and consumer goods could also bring in additional learnings."
Ultimately, it seems European pharma directors agree on three things: one, AI is a technology that has untapped potential in healthcare; two, the adoption rate of AI in bio-pharma is too slow especially compared to other sectors; and three, unlocking the full value of AI in healthcare is impossible without collaboration between corporates, startups and the public sector.
ABOUT   ——————————————————————————-
AGALIO
Agalio is a team of experienced brand excellence and commercial strategy and execution consultants operating mainly in the Bio-Pharmaceutical industry sector.
Contact: Jean-Michel Moslonka – jm.moslonka@agalio.com
INSEAD
As one of the world's leading and largest graduate business schools, INSEAD brings together people, cultures and ideas to develop responsible leaders who transform business and society. Its research, teaching and partnerships reflect this global perspective and cultural diversity.
Contact: Chengyi Lin – chengyi.lin@insead.edu
EARLY METRICS
Early Metrics is an international leader in startup ratings and emerging technology research, empowering decision-makers from funds and corporates to succeed in their innovation initiatives.
Contact: Anaïs Masetti – anais@earlymetrics.com